Are you looking to keep your process operational and fully contained while also mitigating unnecessary health and safety risks to your cleanroom operators?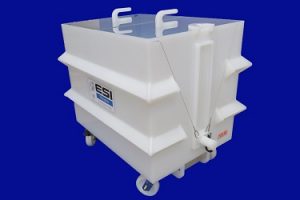 Together with ESI Ultrapure, our colleagues in Non-Metallic Solutions, Inc. have designed a highly innovative bag tote. Its unique elevating floor mechanism allows the unit to be used as a working station for the operator to correctly position the bioprocess bag and connect any required connections at a comfortable and ergonomic height. Along with these added benefits, our Tote also offers 100% containment, portability and excellent SU bag protection.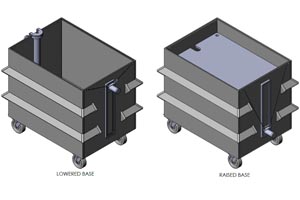 Custom Bag Tote – Key Features and Benefits:
Completely customizable to customer's requirements.
All custom plastic equipment is available with LOT tractability and bio-compatibility certification.
MOC: Polypropylene(PP) and Polyethylene(PE).
Designed using a pre-sag system to ensure the tote can adjust when the load is introduced.
NMS use Pad-Casters which are clean-room rated, non-marking and rated for 1500 lbs.
Can be more cost effective than stainless steel bag totes especially for complicated customization. It is much harder to customize SS due to the large amount of fabrication.
Better chemical resistance than SS which can pit or wheels/castors fail due to CIP or sanitization fluids and their corrosive nature.
For more information, please send us an enquiry or call us in Ireland +353 21 4510900, UK +44 1633 877505 or Benelux on +31 85 0499770, we will be happy to discuss your requirements.