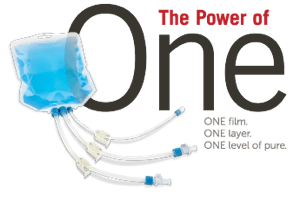 Are you concerned with particulates coming from single-use bag films?
Particles both internal and external to bag films are a potential contamination risk to your bio-manufacturing process. Aramus single-use bag assemblies are manufactured in an ISO Class 5 environment, greatly reducing the potential for particulate contamination. The advantage of manufacturing in an ISO Class 5 environment is it has fewer foreign particles from both the manufacturing environment and the manufacturing process itself.
Do you have temperature limitations with single-use materials?
Most single-use bag assemblies on the market are limited to a temperature range of 20 to 40 °C. This is mostly due to the bag film itself. Below -40°C, the material becomes brittle and fails. Rapid changes in temperature or temperatures below -70 °C can cause delamination of the film layers and film failure due to cracking.
The Aramus assembly is designed and tested from -85° to 40 °C. However, the film and bag boat fitment is made from a single layer of fluoropolymer material that is suitable for use down to -200 °C and as high as 200 °C. Please have a look at this short video showing the cold temperature performance test of the Aramus film compared to two other materials used for single-use bags. Each material is placed in liquid nitrogen at -196°C for 30 seconds.
Are you concerned with single-use materials affecting cell growth?
All additives, either by-products or purposely added chemicals like antioxidants, UV stabilizers, or processing agents—are potential leachables. These leachables can have a negative effect on processes and products and have also been shown to negatively affect cell growth. The Aramus bag is made of a single-layer fluoropolymer film which has no additives that can leach out into your process. The Aramus bag assembly brings a new level of assurance to your process.
For more information on single-use bag assemblies, please contact ESI Ultrapure in Ireland at +353 21 4510900, UK at +44 1633 877505 or Benelux at +31 850499770. We will be happy to answer your questions and discuss your requirements.