Are you looking to maximise efficiencies in single-use bioprocessing applications?
Single-use bioprocessing efficiency is the rate of fluid transfer from one stage of the process chain to another which is often limited to the use of ¾" to 1" hoses.
Why is this? It is largely because there has not yet been a reliable way to connect hoses larger than 1" in diameter.
ESI Technologies is now the proud distributor for Refine Technology, a manufacturer of the CleanLine™ 1.5" Single Use Connector. The CleanLine™ connector promises increased efficiencies in large-scale sterile fluids management across media preparation, filtration, bioreactor harvesting, chromatography, concentration / diafiltration, and bulk formulation operations.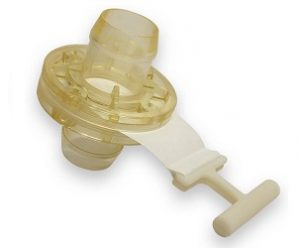 Cleanline™ Connector Benefits
Strong, robust 1½" connection for high pressure and flow rates.
Dual seals minimize contamination risk from the inside and outside.
Genderless connecting: less inventory, less complexity, more flexibility.
Connection secured with industrial strength bolts.
More cost-effective; less downtime.
Hose and custom assemblies are available.
Easy to assemble.
Features
Connector body material meets USP Class VI, 21 CFR 177.1655, and is Animal Derived Component Free. The material of construction is Polysulphone.
100% Lot traceable.
Cleaned, assembled and packaged in an ISO 7 Clean Room.
Gamma and autoclave stable.
Operating temperature: 4 – 50°C.
Operating pressure: 26" Hg up to 5.5 bar (80 PSIG).
Applications
Upstream to downstream transfer.
Media buffer preparation and transfer.
Bioreactor harvest.
Sterile waste removal from the process stream.
WFI or sterile water transfers.
Sterile bulk formulation downloads.
For more information, please send us an enquiry or call us on Ireland: +353 21 4510900, UK: +44 1633877505 or Benelux: +31 85 0499770.  We look forward to hearing from you.